Ideas for Decorating a Bathroom
If you dread walking into your dated bathroom and dream of a change, we've got a fresh list of bathroom decorating ideas that are inexpensive and simple to do. The most important project you can do for a bathroom makeover is a lighting upgrade.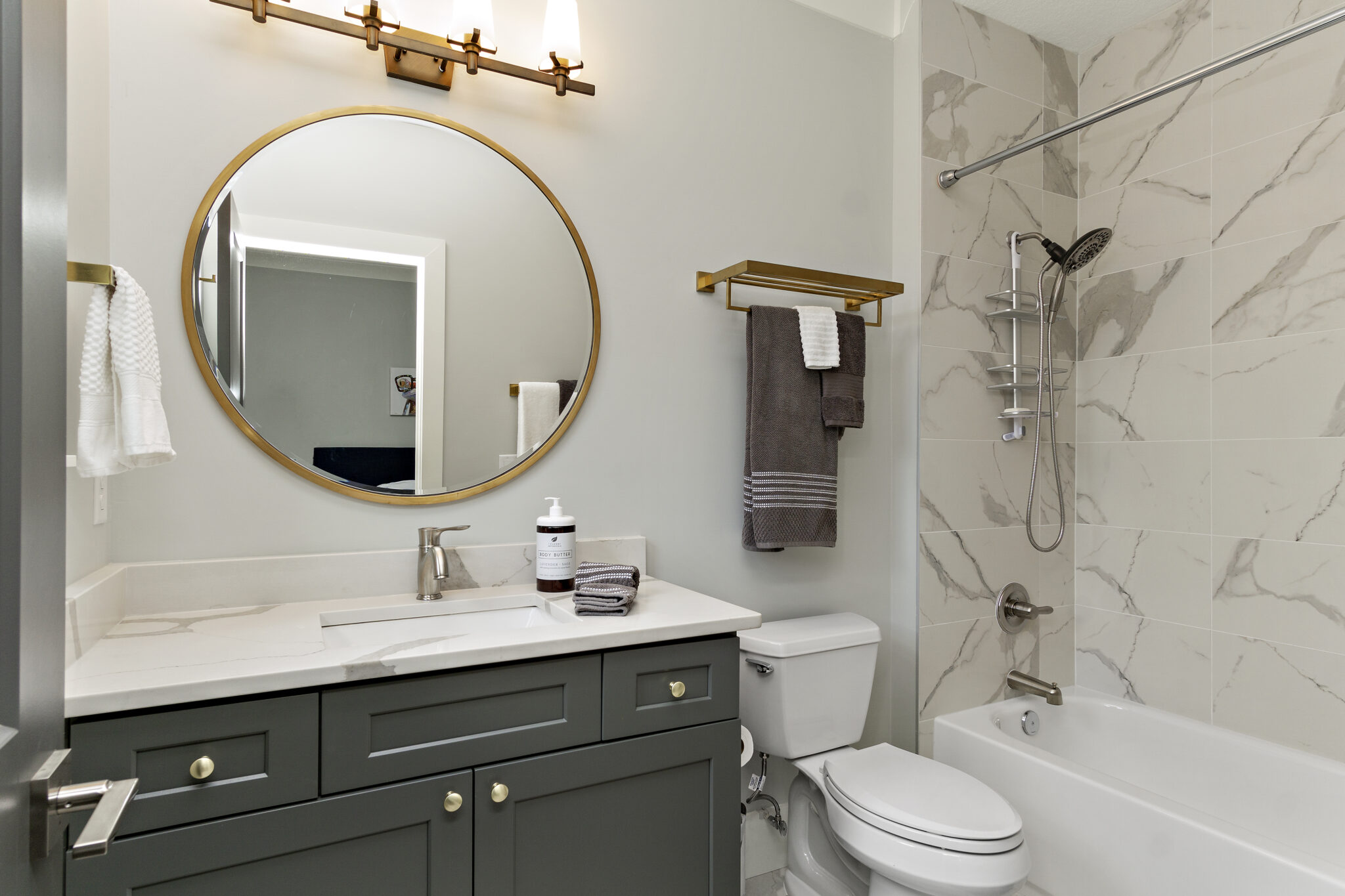 Fresh Bathroom Paint
Improve your bathroom wall decor by painting your walls with the perfect color. It's a quick and easy DIY bathroom decor idea that can immediately transform your bathroom. Light colors will make a small bathroom look bigger. Dark or vibrant colors add a touch of drama to any size bath.It's no longer necessary to choose gloss paint in a bathroom to combat moisture. Ask the paint shop to mix in an additive to matte paint to keep it from getting mildewed.Don't stop with painting the walls — purchase an eggshell or semi-gloss paint and paint the cabinets, too!
Bath Tile Dupes
If your tile is boring, try covering it with removable adhesive tiles like the ones shown above. They're easy to cut and install and they look like the real thing. The big win is that they can be removed whenever you want without damaging the surface behind it — perfect for updating the bath in an apartment or rented house.
Hardware and Faucet Upgrades
Here's a quick and easy bathroom decorating idea — change out your bathroom's hardware.New drawer pulls, towel bars, toilet paper holder, and faucet will completely change the look of your bath. Replacing your bathroom fixtures can even make your countertop look fresh again. Especially if you have a small bathroom that's "adorned" with gold brass circa 1978.Replacement is as simple as unscrewing or popping off the old hardware and adding a new one. To keep this project quick and easy, be sure you are replacing old hardware with similarly-sized screw hole spacing, especially on bar style drawer pulls that require to screws. You'll make fewer new holes the cabinets and walls.
New Powder Room Flooring
There are DIY budget-friendly flooring options today that are modern and easy to work with. Affordable, resilient vinyl floor planks are available at most home improvement stores and come in a variety of wood species and patterns. They're really looking (white-washed oak shown above) and include texture and imperfections on the surface, much like a real wood floor or stone tile would. Installing is as easy as scoring with a blade, peeling and sticking. The best part is that vinyl floors tend to be waterproof and come with long warranties against wear and tear. You can also add a woven vinyl floor rug by Chilewich. The rugs are industrial strength, can be ordered in custom sizes, and have a rubber backing that adds padding and comfort to your bathroom floor.
Multi-functional and Storage in Your Bath
Decluttering and organizing your bathroom will instantly give it a fresh look. If you have a small bathroom, think about how you can improve on existing storage. Adding pull-out drawers (that sort item easier) into a cabinet is an easy weekend upgrade. Standard sizes of pull-out drawers are available at most home improvement stores. Other ways to maximize storage include:–Floating wall shelving–Wall-mounted baskets–Small furniture-style storage cabinet. If you're pressed for space in your home, consider adding your home washer in the bathroom. With an easy water connection, most washers can fit under the skink like the image above.